*** It is very unfortunate that Sir Edgar no longer performs at this event.  His last performance being the 2014 event @ the regency ballroom, sf. ***
This is the story of the Elf Party's rise & fall from greatness… 
THE BEGINNING:
@ Gravity Lounge, SF - Marina District  (2004-2007)
In 2004, growing from a small party in the backroom of 1 of the Marina district's clubs where Sir Edgar was 1 of the 3 resident DJs at (Gravity Lounge; formerly the TrapDoor and what is now Reed & Greenough), this is where the "Elf Party" gained traction to once becoming "the" December/Holiday event in SF to go to. 
Humble beginnings as capacity for Gravity Lounge at that time was ~150 people and probably only 25 people were there to actually celebrate the first "Elf Party" at the club and not at someone's tiny cramped apartment. 
* Elf Party 2006 @ Gravity Lounge, Marina District SF...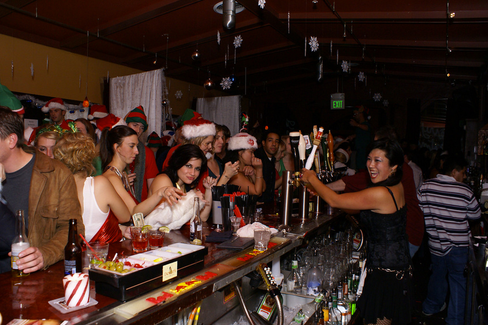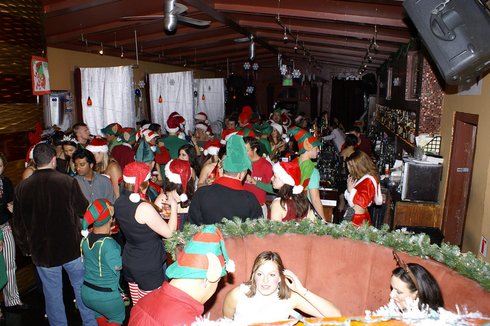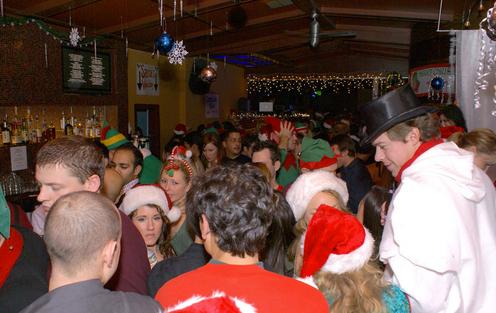 Sir Edgar was the one rocking it, word spread, and more people started to show up the following years through 2007.  Sir Edgar also had a few DJ call-names back then and also went by "Smooth-E" and "Special-Ed" to name a few.  In addition, his popularity continued to grow as he now had 4 different club DJ residencies in addition to working with many of the top club promoters at that time.
As more party-goers piled in, squeezing 300 people in a small bar that had a capacity of 150 was no longer an option so the event had to go to a larger venue.  This move, from the Marina district to the North Beach area, would lead to Broadway Studios.
THE ROAD TO GREATNESS:
@ Broadway Studios, SF - North Beach  (2008-2011)
The year was 2008 and Broadway Studios in North Beach would be the new venue.  The capacity was much, much larger and it so happened that Sir Edgar had also been a resident DJ at several clubs on the North Beach strip.  
The very first club in San Francisco that he became a resident DJ of was the once infamous Velvet Lounge (residency from 1999-2005) which had started the "mashup" music format revolution in SF.  Here, he was spinning alongside DJ Bumper (Will Hanover) who was the SF Giants DJ at the time.  It was a DJ tag-team match made in heaven.  Both with their own, unique DJ styles that complemented each other very well. Eventually, Sam Isaacs joined the DJ rotation and the 3 of them changed the North Beach area forever as many venues started to copy their format.  Velvet Lounge (formerly the famous live rock club, Mabuhay Gardens) was directly below Broadway Studios.  
It was here at Broadway Studios where the number of party-goers grew to ~400 and could safely squeeze up to 500.  Unfortunately, the sound system at Broadway Studios at that time was extremely dated and more people were requesting an even larger venue with more restrooms.  As a result, that new venue would soon be The Regency Building and it's amazing grand ballroom.  
THE GOLDEN YEARS:
@ The Regency Ballroom, SF  (2012-2014)
Playing at the Regency is pretty much any musician's and/or DJ's dream as there are only a handful of venues of this calibre to play at in the Bay Area.  The sound system is top notch.  The lighting is top notch.  The ballroom exudes classiness and rich, historical importance from every nook & cranny of that beautiful ballroom.  Then seeing the sea of people in front of you…….there to listen to you rock the house down…..words cannot describe.
The Regency could also accomodate up to ~1600 in the main ballroom. That's not including the downstairs floor below which is also very large. So you can imagine, the promoters that Sir Edgar was working with started to see $$$.  Charging $25-$50 per ticket…..do the math.  
What started out as an event with all the right intentions would soon be infiltrated by most mortal man's downfall…..GREED.
The first year @ The Regency was one for the ages and Sir Edgar, along with 2 of his close DJ brethren, absolutely destroyed the dance floor. Seamlessly mixing from one genre to the next, from one throwback to the next, from one club big-room banger to the next.  It was also here that the Travel Channel caught wind of this event and came out to film it for their tv show "Xtreme Xmas."
* Sir Edgar + crew on the Travel Channel's "Xtreme Xmas" show...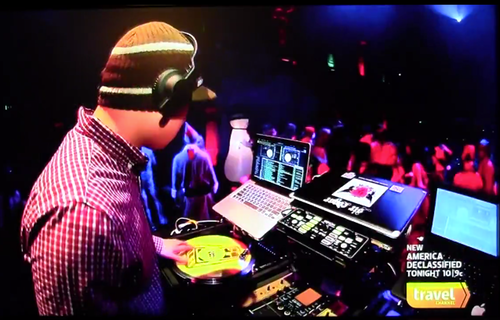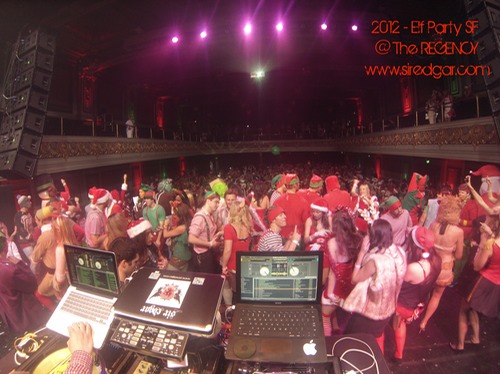 2013 & 2014 were great as well as Sir Edgar rolled out with his dual mixer DJ setup, allowing his crew of 3 in the DJ rotation more room to move behind the decks, and more party-goers in attendance to boot. Except this time, the promoters had opened up the bottom floor to help out with the restroom issues dealt with in 2012.  As a result of opening the bottom floor (now known as the Social Hall), attendance was now easily in the ~2200 range.   2200 guests @ $50-$60 per ticket…..do the math.
* clip of the 2013 event.  Sir Edgar joined by SF violinist Dave Kim…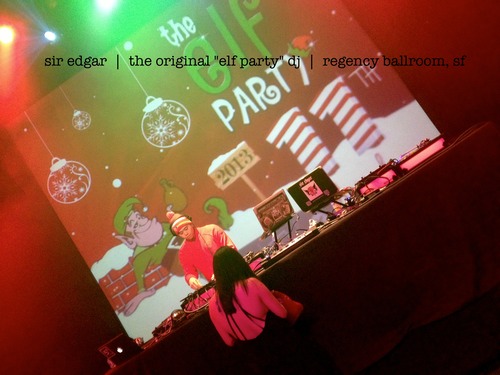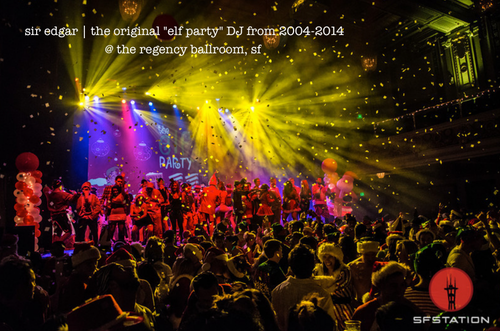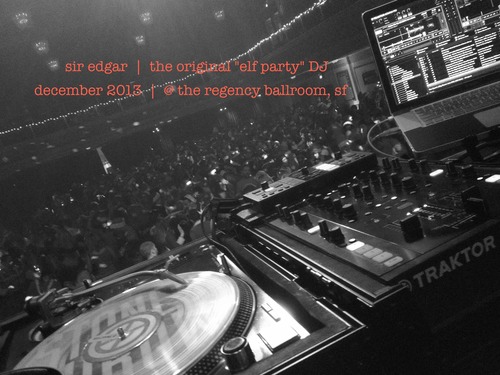 BETRAYAL AND THE ACT OF HARA-KIRI:

@ The Regency Ballroom, SF  (2015-2016)
Fast forward to November of 2015…..4 weeks prior to the event date. The main Elf Party promoters had done a small event in New York City and in the process linked up with an EDM DJ who apparently was "big-time" on the East Coast.  They wanted to capitalize on the hype of the EDM wave, pay the big $$$ to the so called "big-time" DJ, and in turn fill their pockets more from all the new ticket buyers they were hoping to get in.  
As a result, the main Elf Party promoters cancel last minute with Sir Edgar leaving him and his 2 other DJ partners high + dry.  No sorry's, no apologies….nothing.  After a straight decade of Sir Edgar rocking out all the little elves + helpers scattered across the NorCal area, bringing the event to world recognition status by being featured on Travel Channel's "Xtreme Xmas" tv show, the promotion team's egos, GREED, and lust for fame + $$$ had finally overcome them.  
Instead of having Sir Edgar play an extended EDM set of his own which he was already doing at his other club events, the Elf Party promoters were about to gamble everything away on this "big-time" NYC DJ.  That gamble……it failed horribly.  
Party goers who were there to hear Sir Edgar rock it out another time were unfortunately betrayed when another DJ had showed up instead and played nothing but EDM.  The angered and betrayed patrons began to stream out of the building in only 40 minutes of that NYC DJ's set as their hope of any music format change and/or DJ change dwindled.  The ballroom became essentially empty.  
*** This is why you will find that the Elf Party promoters seldom use footage of the 2015 Elf Party @ The Regency Ballroom to promote their future events.  The event was that bad.  As a result, they will always use the 2012-2014 footage when Sir Edgar was the headlining DJ to market their events instead.  
Reference the following below - confetti drop, which is supposed to happen during the peak of the event, on a practically empty ballroom.  What's even more interesting is that several of these pictures have now mysteriously "disappeared" from the Elf Party photo album on SmugMug… ***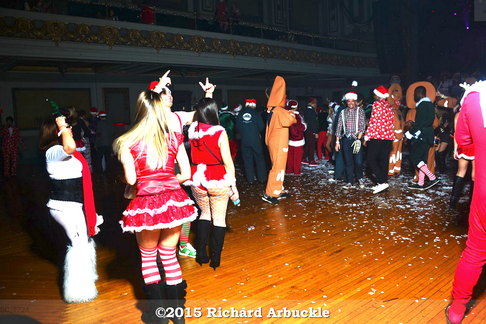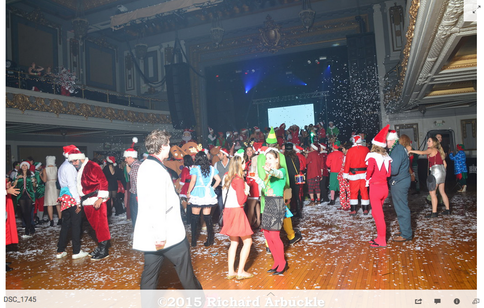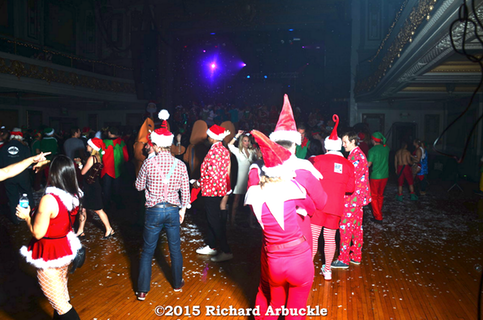 IT WAS GLORIOUS.  
It was so glorious in fact, that the Elf Party promoters had come crawling back to Sir Edgar, pleading him to play at their 2016 event, saying how their 2015 event "absolutely sucked"...if one can recall their exact words correctly.  
Sir Edgar quadrupled his price and laughed as sweet revenge was now his.  It was here that Sir Edgar and the Elf Party team officially parted ways over a phone call.  
ALL GOOD THINGS SHALL COME TO AN END:
@ Broadway Studios, SF  (2017)
Such a shame really.  From 2004-2014, it was a fabulous event.  More so because little did the promoters realize, they essentially had a true grand-wizard, in terms of DJ stye & his ability to work the crowd, playing behind the wheels of steel all those years.  A veteran DJ who has been party-rocking the masses consistently for the last 27 years to date.
It was for a time, "the" Winter/Holiday event to go to in the city along with the Guardsmen Tree Lot event usually held the weekend after.  It was 1 last great dance floor filler before NYE.  Now it has become just a filament, a small particle, a granule, of the once grand spectacle it used to be. 
Added note:  Since the Elf Party crew have failed to pack the Regency Ballroom in both 2015 and 2016 after Sir Edgar's departure (also going by the moniker "Special-Ed" for that event), they are now doing damage control and going back to the much, much smaller Broadway Studios.  As stated earlier, too bad the sound system @ Broadway Studios is one of the worse sounding to hear & play on in the entire city.  At least it used to be and it was in dire need of an upgrade.
** UPDATE:  
Pics from their 2017 event @ Broadway Studios.  What a shame.  Maybe 60 people?  Tops?  The "Elf Party" is officially DEAD.  At least Broadway Studios finally decided to upgrade their sound system...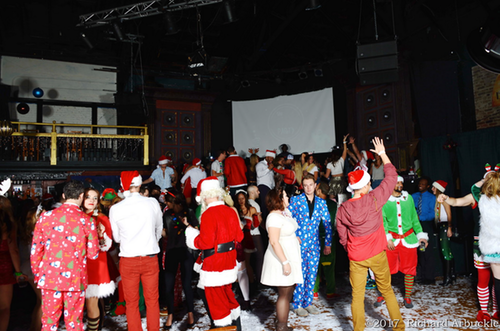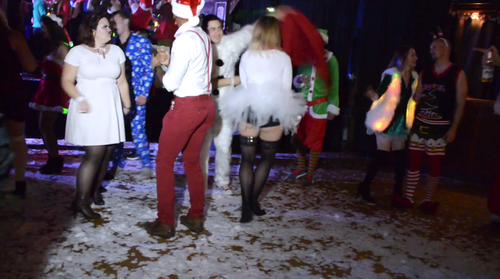 So the moral of the story?  
1.  There are "DJs" and there are "those who actually know how to rock a party"...
2.  Promoters, never screw over the main DJ that not only brought you success, but also happens to be the one that knows what the hell they're doing...
3.  Promoters, never screw over the main DJ that not only brought you success, but also happens to be the one that knows what the hell they're doing...
Perhaps they should go full circle and try their luck @ Reed & Greenough…. 
GLORIOUS. 
The End.
10/31/17
__________________________
update: 
This year's 2013 
11th Annual Elf Party 
--- 12/14/13 ---
has sold out again!! 
location: 
The Regency Building, SF
1800 tickets currently sold … Gonna' be a good one :)
As seen on the Travel Channel's "Xtreme Xmas"….
http://www.travelchannel.com/tv-shows/xtreme-xmas
http://www.eventbrite.com/e/the-elf-party-2013-tickets-8741049715 
ELF PARTY 2013 ==> ABSOLUTELY BONKERS!
__________________________
update: 
This year's 2012 
10th Annual Elf Party 
--- 12/08/12 ---
has sold out again!! 
location: 
The Regency Building, SF
__________________________