*******
Please use the form below to contact us!  We are extremely busy but do care about your inquiry!!  
Generally, Monday through Thursday business hours we are able to respond promptly or within a 24hr time period.  However from Thursday evening through the weekend, the Sir Edgar team is out of the office and busy tending to client events.  We will be back in the office on Monday and Tuesday evenings to tend to any Friday-Sunday inquiries received! 
For a more accurate price quote, please provide as much details you are able to.  Also, please check the corresponding boxes when appropriate to your needs.  
*******
NOTE:  At this time we are having some techinical difficulties receiving inquiries from our host's relay server.
NOTE 2:  As of June 3, 2021 it looks to be working now but just in case, we'll leave the instructions below just in case you have issues submitting your answers!
1.  Please continue filling out the form as you normally would.  
2.  Pressing "send" will bring up a form with your details/answers shown similar to the following: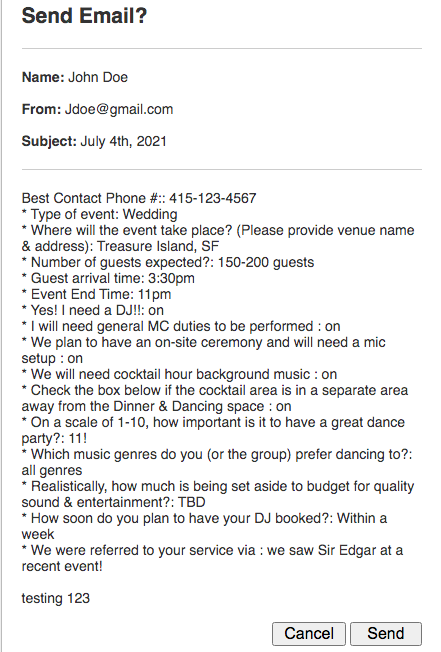 3.  At this point, do not press "send" again.  Instead, please take a screen shot of the form which has your answers and email that screen shot to info@siredgar.com and we will be happy to assist you from there.  
Thank you for your assistance as we try to get this bug corrected and/or migrate to a different web platform.  
*******
*******
Sir Edgar
www.siredgar.com
info@siredgar.com
22+ years professional dj experience
San Francisco  |  Los Angeles  |  Chicago  |  Indianapolis
The Round Table Roster
Sir Edgar 
DJ Kue
Raymond-M
John-V aka "Rocky"
Aaron-D
John-P aka "JP"
Chris-F
Brian-T
Specializing in:

Wedding Receptions

Corporate Events

Collegiate, Fraternity / Sorority, & Alumni Functions
Venue / Club / Nightlife Entertainment
High School Events
Private Parties
Business Hours:
Monday - Thursday  @ 9:30am - 4:30pm
CLOSED:
 Fridays, Saturdays, Sundays, + Holiday Weeks-Weekends
Methods of Payment:
Barter, Bitcoin, Cash, Personal or Company Check, Credit/Debit Card via Venmo
*** WE DO NOT DO NET-7, NET10, NET30, OR ACH PAYMENTS ***
Testimonials
STILL UNDECIDED?  HERE'S WHAT HIS CLIENTS HAVE TO SAY...
Please review Sir Edgar's Yelp page here: